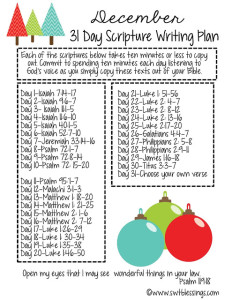 I came across this writing plan a few days ago and reached out to the gal who organized it to ask for permission to share it with you! Shannon of Sweet Blessings gave me permission and I cannot wait to go through this scripture writing plan with you!
Since we are about to enter a new year, how awesome would it be to go into 2016 with a renewed mind, renewed spirit, and a closer walk with God? I think pretty darn awesome!!
The Scripture Writing Plan is easy! Each day you find the daily scripture and write it down in either a journal, notebook, or on the writing page that I'm providing. After writing down the scripture, list your prayers for the day and your thoughts while doing the assignment. Then expect the unexpected and watch God move in your life. This is exciting and I cannot wait to do this with YOU!!!
It's free! It's fun! It's powerful! All you have to do is click on the yellow button to get started. Also, be sure to share this page with your family and friends. The more people we have doing this, the more we will be able to encourage each other.
The following two tabs change content below.
As the CEO of the Business and Learning, Kelli Claypool works with business owners & Entrepreneurs to maximize their efficiency through systems and processes in order to increase their bottom line, allowing them to work fewer hours, and live their ultimate lifestyle. She is also the Host of the wildly popular DivaTalkRadio show, which features victorious women who are leaders in all areas of their lives. Kelli also speaks at Women's Conferences on a variety of topics that inspire, encourage, and uplift women of all ages. Kelli surrounds herself with friends and colleagues who have the desire to succeed in all areas of life; financially, spiritually, and physically. "There is nothing standing in your way to prosperity and abundance, but you!" says Kelli. You can connect with Kelli at the
Business and Learning
or at
Diva Talk Radio
Latest posts by Kelli Claypool (see all)