Wow, I cannot bel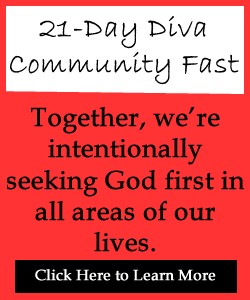 ieve that it is already 2015. Life is moving so fast! There are so many life-changing events happening in my life this year, like my son graduating High School and moving away to college in August. That means as of August, I will be an empty-nester. Yeeow!
I want to continue getting stronger in my walk with Christ that means staying dedicated to reading and meditating on His Word. My personal goal. This is perfect for our upcoming Diva Community Fast which happens next week. YAY! Our 21-Days to Extraordinary YOU (the Diva Community Fast) in October was incredible. So many breakthroughs, miracles, answers to prayer, and relationships restored happened during that time. I just love to see and witness the beauty of God's Grace, and I cannot wait to do it again!
So, for the 1st Fast of this year…we have dates! It will kick off on Sunday, February 8th and run until Saturday, February 28th. Here's the link to learn more about the Diva Community Fast.
I'd love nothing more than for you to join me on the 21-Day Diva Community Fast. You were given God ordained gifts and I believe YOUR gifts will be revealed and magnified during this Fast. It is time for you to shine and prosper in your business, in your family, and in your community!
Hope you'll join us!
Until next time, wear your heels well and be abundantly blessed!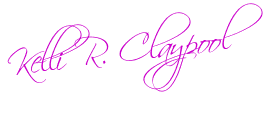 The following two tabs change content below.
As the CEO of the Business and Learning, Kelli Claypool works with business owners & Entrepreneurs to maximize their efficiency through systems and processes in order to increase their bottom line, allowing them to work fewer hours, and live their ultimate lifestyle. She is also the Host of the wildly popular DivaTalkRadio show, which features victorious women who are leaders in all areas of their lives. Kelli also speaks at Women's Conferences on a variety of topics that inspire, encourage, and uplift women of all ages. Kelli surrounds herself with friends and colleagues who have the desire to succeed in all areas of life; financially, spiritually, and physically. "There is nothing standing in your way to prosperity and abundance, but you!" says Kelli. You can connect with Kelli at the
Business and Learning
or at
Diva Talk Radio
Latest posts by Kelli Claypool (see all)