Do you ever feel like you're sinking because of your circumstances? You're in deep…up over your head, and feeling helpless. You're in a pit of despair and hopelessness.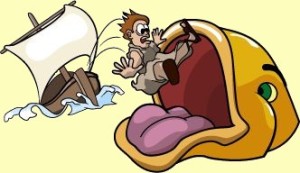 There's this black cloud that seems to follow you everywhere you go. Am I talking to you? Well, I'm also talking to me too. There are times in our lives that we take on so much (stress, worry, blame, guilt, disappointment, shame, fear) that it literally paralyzes us from to the point of not being able to move forward. At times, we wonder where God is. Some folks even turn their backs on God and blame him for their problems.
During my morning prayer and devotions, I turned to Jonah in the Bible. I'm sure you're familiar with the story. It's where God called Jonah to go to Nineveh to preach repentance to the people. However, Jonah was scared and prideful because he felt the people were his enemy and was convinced that God would not carry out the promise to protect Jonah and destroy the city, Jonah fled. He boarded a ship that was traveling in the opposite direction of where God wanted him to go. As the story goes on, a great storm formed and Jonah was thrown into the raging seas and then swallowed by a great fish. He spent 3 days in the belly of the fish before God ordered the fish to spit Jonah out on the beach.
Scripture: Jonah 2:1-10
Then Jonah prayed to the Lord his God from inside the fish. 2 He said,
"I cried out to the Lord in my great trouble,
and he answered me.
I called to you from the land of the dead,[b]
and Lord, you heard me!
3 You threw me into the ocean depths,
and I sank down to the heart of the sea.
The mighty waters engulfed me;
I was buried beneath your wild and stormy waves.
4 Then I said, 'O Lord, you have driven me from your presence.
Yet I will look once more toward your holy Temple.'
5 "I sank beneath the waves,
and the waters closed over me.
Seaweed wrapped itself around my head.
6 I sank down to the very roots of the mountains.
I was imprisoned in the earth,
whose gates lock shut forever.
But you, O Lord my God,
snatched me from the jaws of death!
7 As my life was slipping away,
I remembered the Lord.
And my earnest prayer went out to you
in your holy Temple.
8 Those who worship false gods
turn their backs on all God's mercies.
9 But I will offer sacrifices to you with songs of praise,
and I will fulfill all my vows.
For my salvation comes from the Lord alone."
10 Then the Lord ordered the fish to spit Jonah out onto the beach.
How many times have you ignored the call of the Lord on your life or during your circumstance? Whew…too many for me to count. However, despite our disobedience, God is always faithful to see us through to victory. I love the passage in verse 2 where it says "I cried out to the Lord in my great trouble, and he answered me"…WOW! that's powerful. When we cry out to the Lord, HE HEARS US! If that doesn't have you jumping for joy, you need to check your pulse.
What are you going through right now that you need an answer from the Lord? Cry out to Him. Tell Him your needs and then stand on the promises that He will supply ALL your needs. When we come into His presence with an open mind, an open heart, and believing that He will work on our behalf, we will find that He is faithful and will answer us. Lay your worries at the foot of the cross.
Let's pray…
Father God, thank you for being so faithful. Thank you for being our protector and comforter. Thank you for answering and supplying all of our needs. You are an amazing God who is always present. You are the God of the universe, yet you care for my needs, my hurts, and my desires. I am honored to be called your daughter…your princess. Father, I ask that you cover all those who are reading this post. Touch them. Heal them. Show them that you are working on their behalf. Show yourself faithful to them. Restore marriages. Restore families. Give freedom to those who are bound by financial problems. Bless them abundantly. You are able my Lord. You are powerful. I thank you for the work you are doing within the Diva community. Increase our community, Lord. Thank you, Father, for your goodness and your grace. For we ask these things in Jesus' name. Amen!
If you prayed that prayer with me, please let me know in the comments section below. I want to continue to lift you up in prayer. I want to support you. I want to empower you to be the Princess God has called you to be. YOU were created by Excellence for Excellence!
Until next time Divas, be blessed!xoxoxo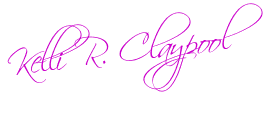 The following two tabs change content below.
As the CEO of the Business and Learning, Kelli Claypool works with business owners & Entrepreneurs to maximize their efficiency through systems and processes in order to increase their bottom line, allowing them to work fewer hours, and live their ultimate lifestyle. She is also the Host of the wildly popular DivaTalkRadio show, which features victorious women who are leaders in all areas of their lives. Kelli also speaks at Women's Conferences on a variety of topics that inspire, encourage, and uplift women of all ages. Kelli surrounds herself with friends and colleagues who have the desire to succeed in all areas of life; financially, spiritually, and physically. "There is nothing standing in your way to prosperity and abundance, but you!" says Kelli. You can connect with Kelli at the
Business and Learning
or at
Diva Talk Radio
Latest posts by Kelli Claypool (see all)