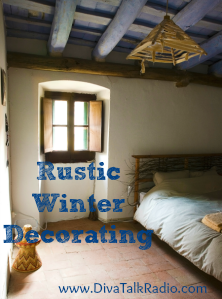 Wintertime lends itself to a cozy, rustic look. After the holidays, it can be nice to give your home a warm, inviting look that both counteracts and reflects the cold winter weather outside. How can you achieve that kind of look? Here are some tips and ideas for rustic winter decorating.
1. Wreaths
Wreaths are not just for the holidays. You can make some lovely wreaths out of natural materials. Here are some wreath ideas for a rustic look:
Twigs woven into a ring make a lovely, simple, rustic decoration. You can hot-glue acorns or pine cones to it as well.
Fresh greens can also be woven into a ring. Gather greens into a bunch, and wire them together at the base with florist wire. Then wire them to a simple wire frame, tucking the wired ends together.
Nuts and/or pine cones can be hot glued to a simple circular frame (such as a foam ring).
2. Logs
Nothing says "rustic" like using logs in your decor. Log cross-sections used as end tables are a nice touch. Log sections also make rustic seats around a natural table.
3. Rustic Lighting
Hang oil lamps from your porch eaves or anywhere outdoors that's safe and needs a light. Candles are always a warm touch in winter decor, but make them rustic by using plain candles in natural holders, such as wood or even small gourds and squash with a hole cut in them. Place various sizes of the same color of candle on a natural plate or platter, and surround them with acorns and pine cones.
4. Twigs and Flowers
The rustic look means natural and earthy, so colorful cut flowers don't necessarily fit the look (at least not in winter). Instead, go for twigs with interesting shapes or simple flowers like pussy willow sprigs. Place them in a pitcher, jar, or hollowed-out pumpkin or gourd for a simple and rustic look.
5. Natural Coat and Towel Hangers
Have you thought about using a large branch or small tree for a coat rack or towel hanger? You'll need to clean the branch or tree and, if you like, coat it with a light sealant or other clear coat. Then mount it into a container of your choice using concrete mix (you can use something like a plastic bucket and then set the bucket into something more attractive, like a wicker wastebasket). Set this by your door or in your bathroom for a wonderfully rustic place to hang your coats and towels.
You can easily have a cozy rustic look just by decorating using simple natural materials. Add to that some other items such as watering cans or buckets, pottery, and primitive or distressed looking furniture pieces and you have the perfect country cottage look.
Tell us in the comments what items you are using this winter to give your home a rustic look.
That's it for now. Until next time Divas, wear your heels well and Be Blessed!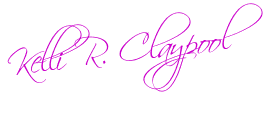 P.S. Would you mind sharing this post with your friends? Please click on the social sharing buttons below. Thanks so much!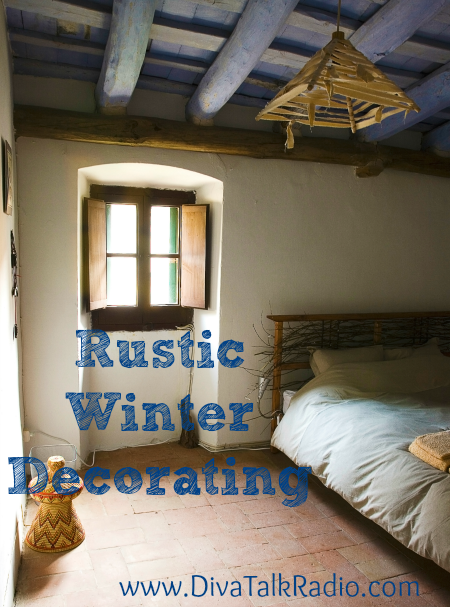 The following two tabs change content below.
As the CEO of the Business and Learning, Kelli Claypool works with business owners & Entrepreneurs to maximize their efficiency through systems and processes in order to increase their bottom line, allowing them to work fewer hours, and live their ultimate lifestyle. She is also the Host of the wildly popular DivaTalkRadio show, which features victorious women who are leaders in all areas of their lives. Kelli also speaks at Women's Conferences on a variety of topics that inspire, encourage, and uplift women of all ages. Kelli surrounds herself with friends and colleagues who have the desire to succeed in all areas of life; financially, spiritually, and physically. "There is nothing standing in your way to prosperity and abundance, but you!" says Kelli. You can connect with Kelli at the
Business and Learning
or at
Diva Talk Radio
Latest posts by Kelli Claypool (see all)