Packing for my son to move away to college was strategic and intentional because we knew his dorm room was not very big, and he had to share the space with his roommate. So being the Internet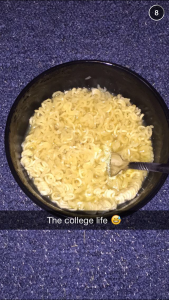 junkie that I am, I set out to find the best information possible to pack the essentials while still keeping all the conveniences of home. Here's my suggestion of how to pack for college in three easy steps…are you ready?
Step One: Inventory your room and choose your top 5 things that are a must to take to college. And, please, for the sake of your reputation, do NOT take your blankie. Leave that at home for when you come home for a visit. Once you made a list of the 5 things you must take to college, go through a college dorm checklist to ensure that you have all of the essentials packed. Be sure to visit your local Staples Store for all your packing and shipping supplies. Staples is making it easy for students to move into their new living space with a wide selection of moving and packing supplies.
Step Two: As you start to gather the items on your checklist and packing them in boxes, inventory as you pack for quick access when you arrive on campus. For example, if you pack sheets in Box #1, write Box #1 next to that item on your checklist. This is where a label maker might come in handy…or you can use a good ol' sharpie. And if you're shipping your boxes, you can label and ship all at once at Staples.
Step Three: For essentials you must buy, shop for college early to give yourself ample time to check your purchases and make returns. Avoid procrastinating because move-in weekend at college is busy. If you are going away to college can also find ways to personalize their space with the latest trends in dorm design and essentials, such as mini fridges, microwaves, décor and storage cubes at Staples.com/backtoschool. Staples Copy & Print Center can personalize products to create one-of-a-kind décor with custom photo canvases, photo panels, phone covers and more.
My son has been living on campus now for two weeks and while he has the biggest meal plan that I could buy, he HAD to buy some Ramen Noodles. He sent me the picture above. Gotta love that kid!
With that being said, it is time to bring on the giveaway! Mom Buzz Media bloggers have partnered with Staples to bring you this $300 gift card Multi-Winner giveaway! 5 lucky readers will each get a gift card from Staples! One will get a $100 gift card and the other 4 will get $50 gift cards!
Good Luck!
Disclaimer: This post was created in partnership with Mom Buzz Media. I received promotional items to assist with my post and promotions. This giveaway is in no way associated with any social media website and is Facebook compliant. 5 winners will be chosen at random and emailed. These winners will have 24 hours to respond or a new winner will have to be chosen. US Residents only please. Ends 11:59 CST on 8/27.

The following two tabs change content below.
As the CEO of the Business and Learning, Kelli Claypool works with business owners & Entrepreneurs to maximize their efficiency through systems and processes in order to increase their bottom line, allowing them to work fewer hours, and live their ultimate lifestyle. She is also the Host of the wildly popular DivaTalkRadio show, which features victorious women who are leaders in all areas of their lives. Kelli also speaks at Women's Conferences on a variety of topics that inspire, encourage, and uplift women of all ages. Kelli surrounds herself with friends and colleagues who have the desire to succeed in all areas of life; financially, spiritually, and physically. "There is nothing standing in your way to prosperity and abundance, but you!" says Kelli. You can connect with Kelli at the
Business and Learning
or at
Diva Talk Radio
Latest posts by Kelli Claypool (see all)