Spiritual renewal is what happens when God pours out his Spirit on his people. When He is free to work powerfully in and through His people to show the world how real and mighty and good He is. It's realigning ourselves with how God intends us to be.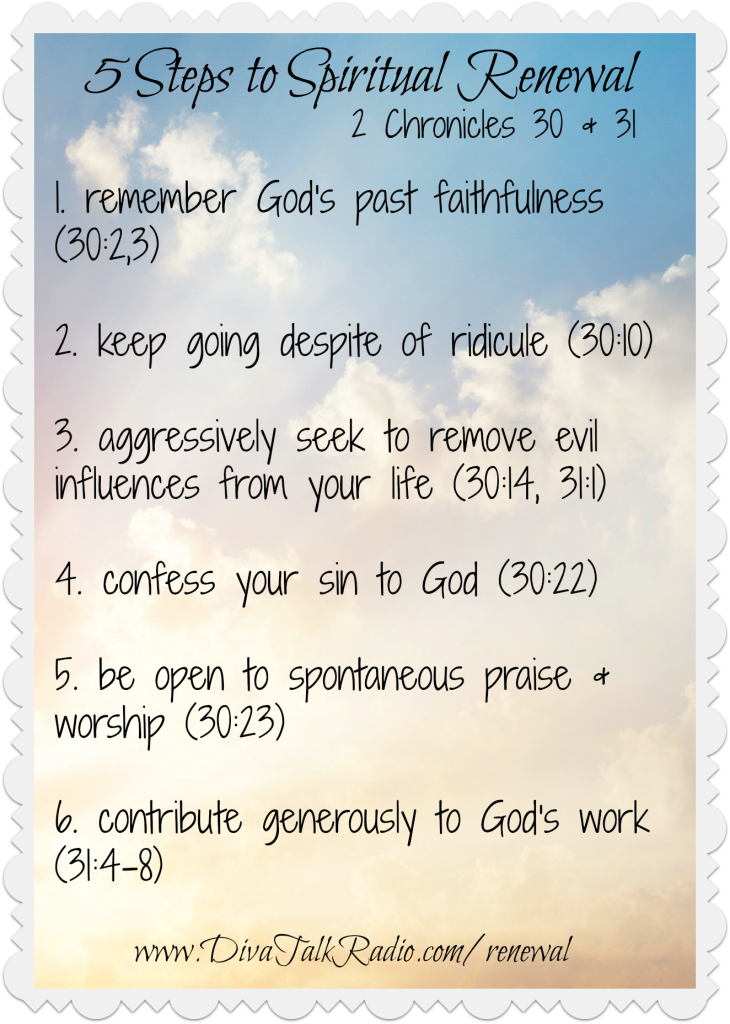 In 2 Chronicles, Chapters 30 and 31, King Hezekiah led the people of Judah in spiritual renewal. His actions serve as a model of renewal for all of us.
1.
Begin by remembering God's past faithfulness.
2 Chronicles 30:2-3 "The king, his aides, and all the assembly of Jerusalem had voted to celebrate the Passover in May this time, rather than at the normal time in April, because not enough priests were sanctified at the earlier date, and there wasn't enough time to get notices out."
God's Law had a provision that, under certain circumstances, the Passover could be celebrated one month later. Has things not fallen into place for you in the past? You plan and plan and plan, then something happens and there's a delay? Can you imagine moving a celebration as big as the Passover to another date? We get all freaked out when we can't have our child's birthday party on a specific day due to other plans. We get stressed when we're running late. Frustration falls upon us when things don't go according to OUR plans. Ha! Even God had a provision that things can be moved. Celebrations can be changes. Events can happen at other times. Don't stress about the things you cannot control, just regroup and press through!
2. Keep going despite of ridicule. 2 Chronicles 30:10 "So the messengers went from city to city throughout Ephraim and Manesseh and as far as Zebulun. But for the most part they were received with laughter and scorn."
The Northern Kingdom of Israel had recently been conquered by Assyria, and most of the people had been carried away to foreign lands. King Hezekiah sent letters to the few people who remained, inviting them to come to the Passover, but they responded in laughter and scorn. Those who serve the Lord may face mockery when they try to promote spiritual renewal and growth. Are you prepared to handle ridicule for your faith? When it comes your way, do not waver. Stand strong in your faith, as Hezekiah did, and God will honor you!
3. Aggressively seek to remove evil influences in your life. 2 Chronicles 30:14 "They set to work and destroyed the heathen altars in Jerusalem, and knocked down all the incense alters, and threw them into Kidron Brook" and 2 Chronicles 31:1 "Afterwards a massive campaign against idol worship was begun. Those who were at Jerusalem for the Passover went out to the cities of Judah, Benjamin, Ephraim, Manesseh, and tore down the idol alters, the obelisks, shameimages, and other heathen centers of worship. Then the people who had come to the Passover from the northern tribes returned again to their own homes."
Why was idol worship so bad? The Israelites had access to the one true God but they constantly fell into worshiping lifeless idols made of wood or stone. They put aside worshiping the Creator in order to worship his creation. We are just as guilty when God no longer holds first place in our lives. When we think more about wealth, prestige, or material possessions than about God, we are actually worshiping them as idols. Because of idol worship, the people of Judah were sent into captivity in foreign lands. We may not be sent into physical captivity in foreign lands, but our spirit is held captive by those things that we worship in place of God himself.
4. Confess your sin to God. 2 Chronicles 30:22 "So, for seven days the observance continued, and peace offerings were sacrificed, and the people confessed their sins to the Lord God of their fathers." Part of spiritual renewal is to unload all of the baggage we've been carrying. The baggage is heavy and it slows us down from receiving the anointing and blessings that God intends for us. By confessing your sin, you are laying them at the foot of the Cross. You no longer have to carry your heavy baggage with you.
Imagine yourself with a 1000 pound backpack on and you're walking up a steep hill. One step after another. One struggle after another. One disappointment after another. One heartache after another. The hill gets steeper and steeper as you continue to climb. It's hard. It's depressing.Now, imagine flinging off that 1000 pound backpack. What a relief. Your back is no longer hurting. You can now stand up straight. You can now focus on your direction. You can walk in victory. THAT's what it feels like when you confess your sins. God loves you and forgives you no matter what. Isn't it time to fling off your burdens?
5. Be open to spontaneity in worship. 2 Chronicles 30:23 "The enthusiasm continued, so it was unanimously decided to continue the observance for another seven days." Have you ever just started singing an old Hymn? Or has a song all of sudden come to your mind that you sing in church? Before you know it, you're dancing around singing all kinds of songs and praising God. I love those times! There are times when I'm feeling a bit down and I put on my headset, jump over to Youtube, and start watching music videos from artists like Ron Kenoly, Hillsong, and Donnie McClurkin. It doesn't take long before praise fills my soul and with my hands lifted high, I just start worshiping the King of Kings. Ahh, that's just an awesome feeling. That intimacy with God. It feels like there's no one else on earth but me and God. Does this every happen to you?
6. Contribute generously to God's work. 2 Chronicles 31:4-8 "In addition, Hezekiah required the people of Jerusalem to bring their tithes to the priests and Levites, so that they wouldn't need other employment but could apply themselves fully to their duties as required in the law of God. The people responded immediately and generously with the first of their crops and grains, new wine, olive oil, money, and everything else. A tithe of all they owned. Everything was laid out in great piles. The people who had moved to Judah from the northern tribes and the people of Judah living in the provinces also brought in the tithes of their cattle and sheep, and brought a tithe of the dedicated things to give to the Lord and piled them up in great heaps. The first of these tithes arrived in June, and the piles continued until October. When Hezekiah and his officials came and saw these huge piles, how they blessed the Lord and praised his people."
Hezekiah reinstated the practice of tithing, giving the first portion of one's income so they could be free to serve God and minister to the people. The people responded immediately with their first crops. Does God receive the first portion of your income? Generosity makes our giving delightful to God. What about your gifts? Do you give of them freely? What about your fruits, your crops? Perhaps you're not a farmer or a gardener, but what about your encouragement? Are you first to be of encouraging to someone else? While we, as Christians, are commanded to give of our income, I believe that we can go so much further than that and give of our time, our knowledge, and our encouragement.
The steps to spiritual renewal are not complicated. It comes when we affirm & honor the Word of God. We become hungry for more of God in our lives. We desire Him. We long for Him. We seek Him daily. As a result, our spiritual renewal is consistent and we thrive in a joy-filled life. Now that we know the 6 steps to spiritual renewal, are you ready for a renewal? Please share your thoughts in the comments section below.
That's it for now. Until next time Divas, wear your heels well and Be Blessed!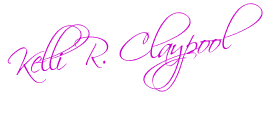 The following two tabs change content below.
As the CEO of the Business and Learning, Kelli Claypool works with business owners & Entrepreneurs to maximize their efficiency through systems and processes in order to increase their bottom line, allowing them to work fewer hours, and live their ultimate lifestyle. She is also the Host of the wildly popular DivaTalkRadio show, which features victorious women who are leaders in all areas of their lives. Kelli also speaks at Women's Conferences on a variety of topics that inspire, encourage, and uplift women of all ages. Kelli surrounds herself with friends and colleagues who have the desire to succeed in all areas of life; financially, spiritually, and physically. "There is nothing standing in your way to prosperity and abundance, but you!" says Kelli. You can connect with Kelli at the
Business and Learning
or at
Diva Talk Radio
Latest posts by Kelli Claypool (see all)