As a Midlife Woman, do you find yourself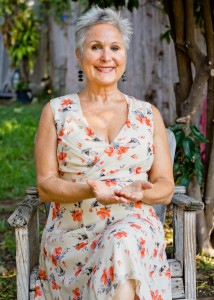 • feeling out of sorts,
• stripped of who you believed you were,
• getting strange physical ailments,
• going through transitional stages of confusion,
• not knowing exactly where you are heading in your life?
Don't despair! You might be in menopause!
It is a well-kept secret that, during this maligned time, empowered midlife women have the opportunity to transform their lives on their own terms and actualize all of their latent potentialities.
• Would you like to handle this transition without being heavily medicated?
• Are you interested in treating your symptoms in the most natural and empowered way?
• Are you ready to start living your life on your own terms?
What if there was a way where you could
• elevate your energy,
• live a rich life,
• feel healthier and more vibrant than at any other age?
If you're looking for alternative ways of dealing with these health concerns, you will want to join me and my guest, Dr. Sirena Pellarolo, for a pivotal conversation about healing yourself from the inside out. Sirena specializes in midlife women who are experiencing natural physical changes and also need support with the emotional response that causes them to get derailed in life.
After a lifetime of eating disorders and emotional eating, Sirena underwent a full personal and professional transformation during her menopause years. She changed careers and became certified as an Integrative Nutrition Holistic Health Coach, offering programs that inspire her clients to reconnect with their bodies, minds and spirits. This journey led her to embody the Midlife Midwife, modeling for her clients how to courageously step center­ stage in their lives by unleashing their unique personal power, creative self­‐expression and overall well being.
Her mission as a Midlife Midwife is to show by example how transformation is attainable for midlife women; that it is possible to stay healthy, vibrant and beautiful after the reproductive years.
During our inspirational, life changing talk on today's episode of DivaTalkRadio, you will learn how to
• Reclaim your personal power and take control of your physical transformation during the Change, without having to buy into a traditional medical approach to healing.
• Release the toxicity from your physical, mental and emotional systems that you have been probably carrying around for years without even knowing it.
• Activate your system, feeling an immediate increase in your vitality, strength and creativity
• And finally, fulfill those dreams that you had put aside during your childbearing and career­‐building years
Meet Our Guest:
Sirena Pellarolo, Ph.D. is an international author, speaker and holistic healer. She supports women in menopause to manage their symptoms naturally and rebirth into a vibrant second half of their lives. With 30 years experience in self development, health and wellness, Sirena believes in a holistic and empowered approach to menopause through self­‐awareness, emotional, mental and physical detoxing. A board certified holistic health coach, raw food educator, detox expert, radio host and blogger, Sirena is Professor Emerita of Spanish and Latin American Cultural Studies.
She has authored and published numerous articles and two books on Latin American performance and gender studies, globalization and new social movements. She is co­‐author of Success in Beauty: The Secrets to Effortless Fulfillment and Happiness (2014) and Menopause Mavens: Master the Mystery of Menopause (2015). Her forthcoming Recover Your Juiciness: A 30 Day DIY Guide for an Empowered and Healthy Menopause will be published Winter 2016 by Flower of Life Press.
The following two tabs change content below.
As the CEO of the Business and Learning, Kelli Claypool works with business owners & Entrepreneurs to maximize their efficiency through systems and processes in order to increase their bottom line, allowing them to work fewer hours, and live their ultimate lifestyle. She is also the Host of the wildly popular DivaTalkRadio show, which features victorious women who are leaders in all areas of their lives. Kelli also speaks at Women's Conferences on a variety of topics that inspire, encourage, and uplift women of all ages. Kelli surrounds herself with friends and colleagues who have the desire to succeed in all areas of life; financially, spiritually, and physically. "There is nothing standing in your way to prosperity and abundance, but you!" says Kelli. You can connect with Kelli at the
Business and Learning
or at
Diva Talk Radio
Latest posts by Kelli Claypool (see all)